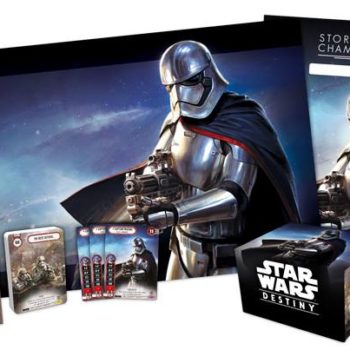 Date: samedi le 12 août
Enregistrement: 11h30
Début: 12h00
Frais: 15$/joueur (chaque joueur recevra un booster de participation de la série Spirit of Rebellion)
Rondes Suisse de 35 minutes, cut à top 4 (peut changer selon le nombre de joueurs)
Deckliste est requise!
Gagnant – Plaque de champion et un bye pour un tournoi Regional
Top 2 – Une carte deluxe Captain Phasma « extended art »
Top 4 – Un playmat Captain Phasma
Top 8 – Un deckbox First Order/Stormtroopers
Top 32 – Une carte The Best Defense « alternate art »
Règlements officiels du tournoi (en anglais):
http://bit.ly/SWDTournamentRules
————————–—-
Date: Saturday, August 12th
Registration: 11:30 a.m.
Start Time: 12:00 p.m.
Entry fee: $15/player (each player receives a participation booster from the Spirit of Rebellion series)
Swiss rounds of 35 minutes, top 4 cut (subject to change depending on number of players)
Decklist is required!
Winner – Champion plaque and a first round bye at a Regional
Top 2 – Extended art deluxe Captain Phasma card
Top 4 – Captain Phasma playmat
Top 8 – First Order/Stormtroopers deck box
Top 32 – Alternate art The Best Defense card
Official Tournament Regulations:
http://bit.ly/SWDTournamentRules